Experience the Integration of Track & Trace Solutions:
22. October 2018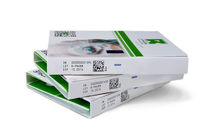 Serialization made easy - a short film
Seralization and Aggregation are the largest current concern in the Pharma Industry. China, Brasil, United States and Europe all have individual standards with different levels of seralization and aggregation. EU FMD 2017 & DSCSA 2016 are currently the largest regulations to come into effect over the next few years. Serialization is a must for most of the worlds' pharma markets. As a result, many pharmaceutical wholesalers and pharmaceutical resellers are now demanding aggregation become a part of the production process. product safety and security are actually the main drivers. Many segments can benefit from implementing a track and trace program. Complete traceability prevents goods from finding their way to grey markets, and serialization allows retailers to verify the authenticity of a product. Mettler Toledo PCE draws on 30 years' experience in establishing track and trace programs, making us the leading expert in serialization and aggregation solutions. We supply expert software solutions and intelligent optical control systems for maximum performance and reliability. By integrating our Serializiation and Vision Inspection solutions into packaging lines we are able to design solutions for many different scenarios. The addition of effective line and site management software allows us to connect packaging lines with ERP systems and online databases through all levels of the serialization and aggregation process.